Summer Family Memories
Save Your Summer Memories
The season of warmth is on its way and alongside it, electrifying adventures waiting to unfold. Whether your anticipated activities include spending time with family members, traveling abroad, or relaxing on the couch with a book in hand—every instance is worth documenting. Embed your summer memories within the beautiful lining of a photo album or journal by Epica, where they will be safe for seasons to come.
Italian Leather Wrap Journal With Handmade Amalfi Pages
As midsummer memories stack up, the Italian Leather Wrap Journal with Handmade Amalfi Pages provides the perfect space to capture the memorable moments from a family gathering or summertime traveling adventures. This supple, hand stitched leather wrap journal comes with 160 unlined pages ready to be filled. Make this notebook even more remarkable by embossing your initials or the year on the delicately crafted front cover.
Hand Crafted Leather
Delicately distressed, our handcrafted Italian leather cover has always been what Epica is most proud to present. Featuring only the finest materials and pride of craftsmanship, Epica products call out to the Shakespeare in all of us.
Made in Italy
Italian leather has always had a remarkable reputation for being one of a kind. Since 2001, our finest Italian Leather Journals and Photo Albums have been masterfully handcrafted in Florence, Italy for Epica and are designed to last a lifetime.
Custom Personalization
Commemorate a special occasion with a few lines or a paragraph or two, done in calligraphic script to match the style of your journal of choice. We take pride in featuring the most extensive set of personalization options you will find – anywhere.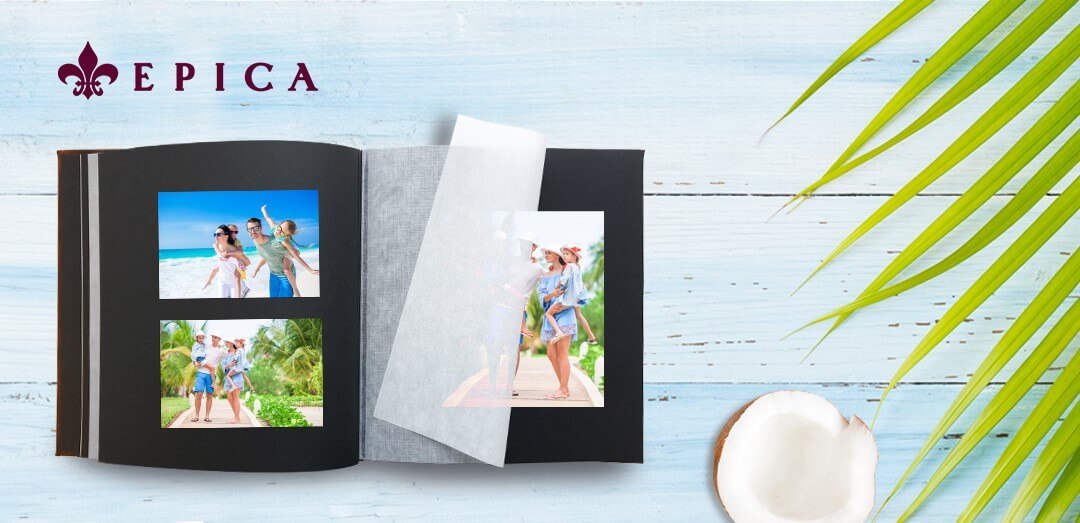 Have Your Classic Album Personalized to Add a Special Touch!
Save your summer adventures with Epica's endless photo album options. The Handmade Italian Leather Photo Album is a timeless showpiece that is sure to stand through the test of time. The rich mounting pages can accommodate photos of all sizes, from 4x6 up to 8x10, without setting limitations on what you can archive. The album is carefully crafted, artistically appealing and can be personalized to impress a variety of tastes.
Custom Logos & Personalizations

Can I do Monograms, Initials and Personal Inscriptions on my journal?
For most leather cover books and albums we offer a variety of custom embossing features, including: Monograms/Initials and Inscriptions available in 3 fonts and a wide variety of colors. For our exclusive wood cover books and albums we offer laser engraving which precisely cuts into the wood cover for a very rustic and handsome effect, also available in 3 fonts.
Can I add a photo or logo to personalize it?
Upload your own art file as a ready-to-go monochrome logo, select one of our stock images or get design assistance. Select this option if you've already got something you feel is ready to upload and be engraved.
Do you offer gift wrapping?
Several exquisite gift-wrapping choices are available, although our custom Epica boxes and velvet/satin pouches make for an elegant presentation. You will find gift-wrapping options available and appropriate to your purchase as you shop.
I want something more than just monograms on first page. What else can I do?
If you've got more to say than what fits on the front cover with embossing, let us design a custom title page for you. Select from different fonts and border colors to match the style of your Epica product. Names, date, name of a special occasion, scripture passage, poem, quotes, you name it! We can all do it in professionally typeset and printed, then mounted to the first page of the book with a color coordinated border.
Can I emboss the idea of my own design on the products?
Create your own perfect logo with our help. Whether you've got the perfect artwork or not, we can turn almost any image into something that can attractively be engraved onto one of our journals, albums or guest books.
I want to emboss something that's different, do you do customization?
Want to create something truly spectacular? Select from a wide variety of images and we will create a custom logo to engrave your album or journal.
The Taste of Summer: Leather Wine Tasting Journal
Satisfy your summer with a robust glass of your favorite wine and a gorgeous Leather Wine Tasting Journal by Epica. Organize all of your grape-flavored notes within this intricate and sturdy journal, perfect for the avid wine connoisseur. With room for over 100 bottle of wines, record facts about storage, complimentary meals, price, and flavor in our detailed wine tasting journal; your summer won't be fulfilled until every field is complete.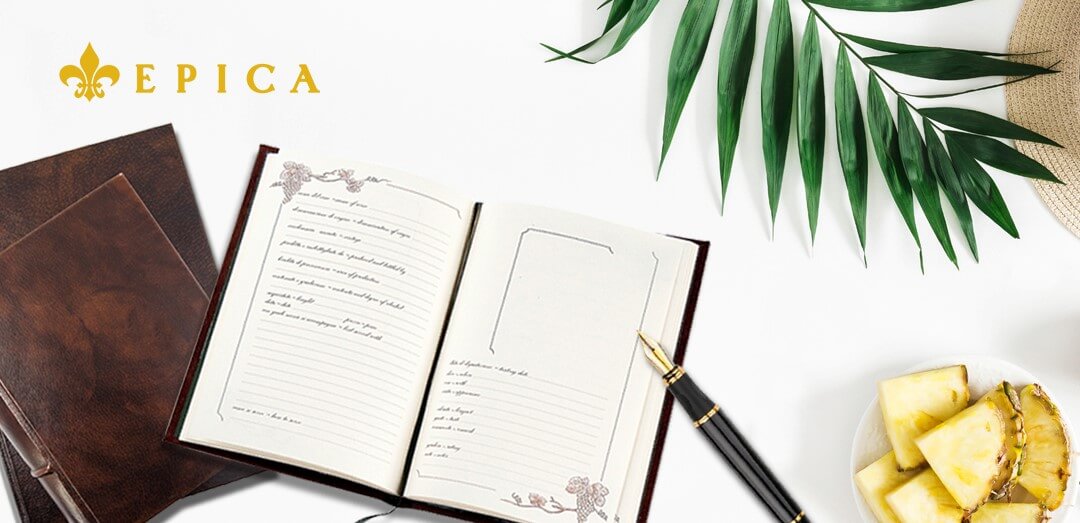 "The journal was beautifully crafted and the employee at Epica was especially helpful in guiding me with the instructions on how to place my order with the details and special customized inscription. Very professional work and friendly service in getting the journal made exactly the way that I wanted. Prompt shipment. 100% satisfaction."
— Michael A.
"I am so pleased with my album. Beautiful workmanship. I will definitely order more for my family. I couldn't believe how fast I received it. The box is extremely nice that it was packed in. Think you"
— Marylin M
"Epica had come highly recommended to me and, as a first-time customer, I was not in the least disappointed. The leather binding and velvet sleeve are elegant, but the heart of the journal—its paper—is what matters the most to me as a fountain pen user. The paper is perfection. And what a pleasant surprise to find enclosed in the package a Thank You note, a handmade bookmark, and a substantial gift card toward a future purchase. Epica is first class all the way"
— Richard F.