New Beginnings
Start the new year with your own personalized journal
New Year marks new beginnings, new goals to achieve, and new memories to create. Make sure your memories and experiences are stored in a single place with a leather journal by Epica. Beautiful and elegant design, along with incredibly aesthetic touch, makes it the perfect place for writing your thoughts, goals, and aspirations. Epica classic style journal is a great way to keep your thoughts organized, reflect on yourself, and store your most unique memories in one place. Customize it to your needs by adding monograms, personalized embossing, and custom title page and make it even more special.
Free monogram with Leather Wallet purchase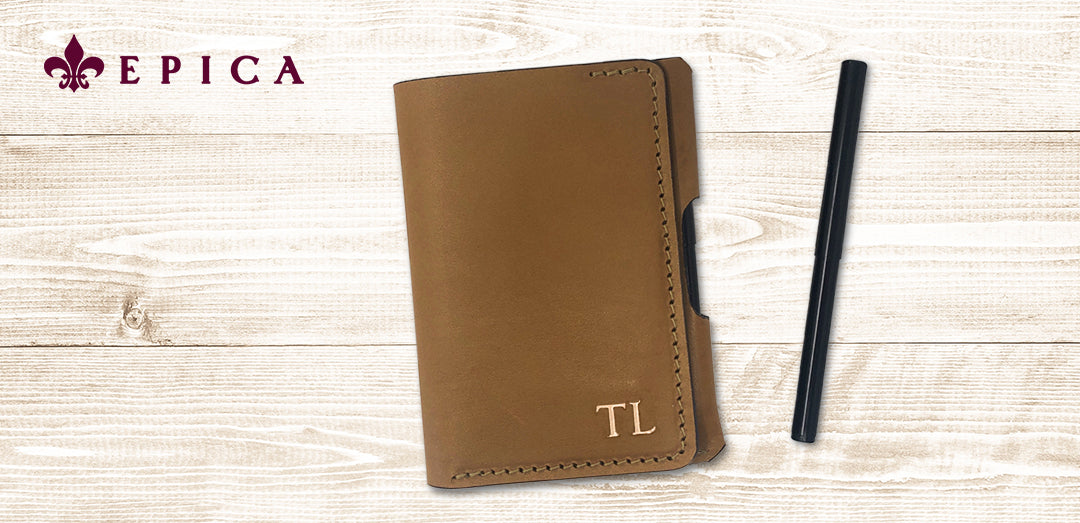 Leather Wallet Notebook Combo by Epica is made of genuine leather and comes with an extra pen. This compact wallet with a sophisticated, stylish look comes in handy for those who are always on the move and may need to take notes on the go. It gives you enough place to have the wallet, notepad, card, and bills all in one place, making everything easier to manage. What makes this beautifully crafted wallet even more appealing is that you receive a free monogram with a purchase. Add a feeling of authenticity to your wallet and get it personalized with a free monogram.
Hand Crafted Leather
Delicately distressed, our handcrafted Italian leather cover has always been what Epica is most proud to present. Featuring only the finest materials and pride of craftsmanship, Epica products call out to the Shakespeare in all of us.
Made in Italy
Italian leather has always had a remarkable reputation for being one of a kind. Since 2001, our finest Italian Leather Journals and Photo Albums have been masterfully handcrafted in Florence, Italy for Epica and are designed to last a lifetime.
Custom Personalization
Commemorate a special occasion with a few lines or a paragraph or two, done in calligraphic script to match the style of your journal of choice. We take pride in featuring the most extensive set of personalization options you will find – anywhere.
Plan your year and make your goals happen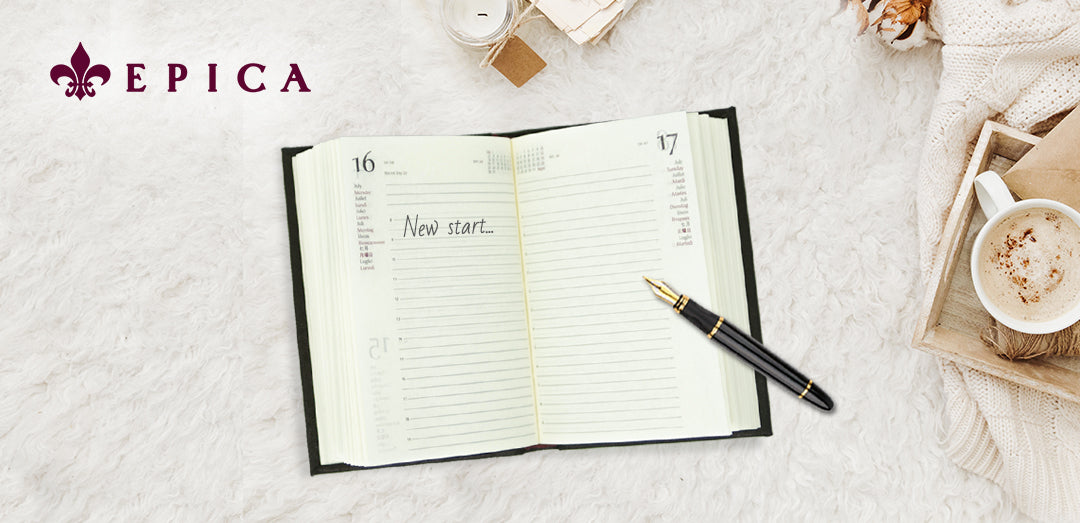 Get the year started with a personal day planner. Epica Moderno Leather Day Planner has been designed to suit you perfectly, to inspire you to get things done and achieve your goals. The elegant styling and perfectly planned pages serve to give it a kind of authentic feel and look about it. What's really great about this planner is that it is refillable so you can keep it alive with refill inserts. There are three sizes available for Moderno Leather Day Planner, so you may choose the size according to your preferences.
Custom Logos & Personalizations

Can I do Monograms, Initials and Personal Inscriptions on my journal?
For most leather cover books and albums we offer a variety of custom embossing features, including: Monograms/Initials and Inscriptions available in 3 fonts and a wide variety of colors. For our exclusive wood cover books and albums we offer laser engraving which precisely cuts into the wood cover for a very rustic and handsome effect, also available in 3 fonts.
Can I add a photo or logo to personalize it?
Upload your own art file as a ready-to-go monochrome logo, select one of our stock images or get design assistance. Select this option if you've already got something you feel is ready to upload and be engraved.
Do you offer gift wrapping?
Several exquisite gift-wrapping choices are available, although our custom Epica boxes and velvet/satin pouches make for an elegant presentation. You will find gift-wrapping options available and appropriate to your purchase as you shop.
I want something more than just monograms on first page. What else can I do?
If you've got more to say than what fits on the front cover with embossing, let us design a custom title page for you. Select from different fonts and border colors to match the style of your Epica product. Names, date, name of a special occasion, scripture passage, poem, quotes, you name it! We can all do it in professionally typeset and printed, then mounted to the first page of the book with a color coordinated border.
Can I emboss the idea of my own design on the products?
Create your own perfect logo with our help. Whether you've got the perfect artwork or not, we can turn almost any image into something that can attractively be engraved onto one of our journals, albums or guest books.
I want to emboss something that's different, do you do customization?
Want to create something truly spectacular? Select from a wide variety of images and we will create a custom logo to engrave your album or journal.
Personalize Your Collection
You've chosen the perfect product for you, now it's time to truly make it your own. Epica offers various personalization options to give your handcrafted product a final touch of individuality. Choose from debossing initials, embossing an inscription, or for longer dedications, create a custom title page. Other personalization alternatives include laser engraving and logo imprinting. The personalization options are endless with Epica!