Handmade for the Holidays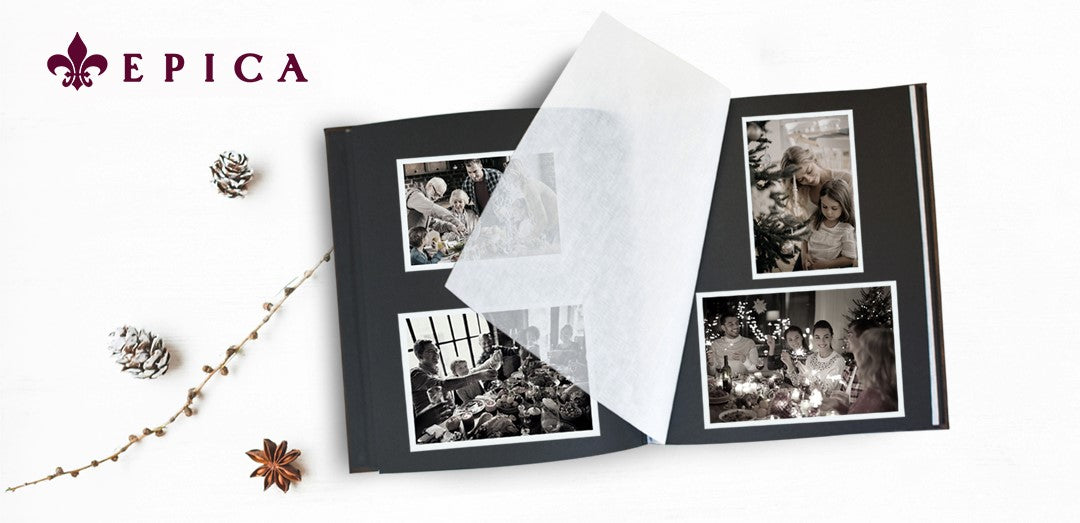 No Better Way to Cherish the Holidays
The holidays are upon us and with them come family gatherings, gift giving, and the making of treasurable memories. At Epica, there is a way to cherish every memory and a unique gift for every person; an elegant photo album for mom, a luxurious wallet notebook combo for dad, a personalized leather journal for siblings, and 2020 day planners for your coworkers. Take a look at our Gift Ideas tab on our website if you are in need of further Epica gift options this holiday season.
Handmade Italian Leather Photo Albums
At Epica, we have numerous photo album/scrapbook options for the avid scrapbooker or passionate photo collector. Every one of our photo albums is handmade with love and elegance and range in sizes from 9x6 to 18x18. These beautifully crafted leather albums come in various options including size, cover and page color, and personalization. They are perfect for collecting your own personal memories from the holidays or handcrafting a scrapbook of special moments and gifting to a loved one.
Hand Crafted Leather
Delicately distressed, our handcrafted Italian leather cover has always been what Epica is most proud to present. Featuring only the finest materials and pride of craftsmanship, Epica products call out to the Shakespeare in all of us.
Made in Italy
Italian leather has always had a remarkable reputation for being one of a kind. Since 2001, our finest Italian Leather Journals and Photo Albums have been masterfully handcrafted in Florence, Italy for Epica and are designed to last a lifetime.
Custom Personalization
Commemorate a special occasion with a few lines or a paragraph or two, done in calligraphic script to match the style of your journal of choice. We take pride in featuring the most extensive set of personalization options you will find – anywhere.
Elegant Leather Wallet Notebook Combo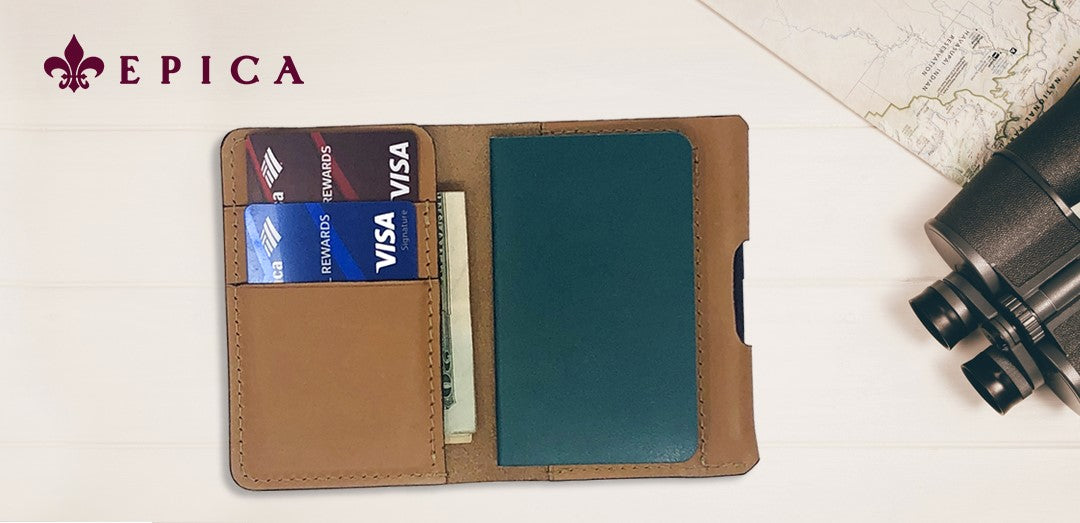 Be one of the first with a unique leather wallet notebook combo by Epica. This luxurious combination is a brand new product and crafted ideally for the on-the-go writer. With a convenient size of 3.25in x 4.5in, it fits just right in a pants pocket or in a handbag. This bi-fold wallet notebook combo offers two credit card slots and two addition sleeves for bills or a Driver's License. To stay up to date on other new products, scroll through the New Arrivals tab on the Epica website.
Custom Logos & Personalizations

Can I do Monograms, Initials and Personal Inscriptions on my journal?
For most leather cover books and albums we offer a variety of custom embossing features, including: Monograms/Initials and Inscriptions available in 3 fonts and a wide variety of colors. For our exclusive wood cover books and albums we offer laser engraving which precisely cuts into the wood cover for a very rustic and handsome effect, also available in 3 fonts.
Can I add a photo or logo to personalize it?
Upload your own art file as a ready-to-go monochrome logo, select one of our stock images or get design assistance. Select this option if you've already got something you feel is ready to upload and be engraved.
Do you offer gift wrapping?
Several exquisite gift-wrapping choices are available, although our custom Epica boxes and velvet/satin pouches make for an elegant presentation. You will find gift-wrapping options available and appropriate to your purchase as you shop.
I want something more than just monograms on first page. What else can I do?
If you've got more to say than what fits on the front cover with embossing, let us design a custom title page for you. Select from different fonts and border colors to match the style of your Epica product. Names, date, name of a special occasion, scripture passage, poem, quotes, you name it! We can all do it in professionally typeset and printed, then mounted to the first page of the book with a color coordinated border.
Can I emboss the idea of my own design on the products?
Create your own perfect logo with our help. Whether you've got the perfect artwork or not, we can turn almost any image into something that can attractively be engraved onto one of our journals, albums or guest books.
I want to emboss something that's different, do you do customization?
Want to create something truly spectacular? Select from a wide variety of images and we will create a custom logo to engrave your album or journal.